EACH MOTHER, HER WATCH
Mother's day is getting closer and closer... If you haven't found THE right gift idea to touch her yet, don't panic! A watch is a useful gift, an accessory that turns out to be a jewel and that completes all your outfits. It is that why we have specially selected some of our most beautiful models.
WHICH MODEL ARE YOU GOING TO FALL FOR ?
To help you make your choice, we have classified these beautiful models by look.
All you have to do is to find the one that matches your mom!
1. THE BOHEMIAN LOOK
A trend in fashion for years, the bohemian look is characterized by its romantic and delicate features that give it its charm.

If your mother likes to wear long skirts or long dresses, kimonos, fringe accessories or even long necklaces: stop thinking and go for our Eolia selection!
The watches in the Eolia collection are original and correspond to the bohemian look thanks to their dials dotted with lace and floral motifs.
2. THE RETRO LOOK

Atypical and original, the retro look allows you to have your own personality.

If your mother's clothing style is out of step with current fashion and she doesn't like to look like everyone else, this selection is made for her!

Browse through our selection to find our watches from the LeCaré collection that will bring a real retro touch to your mom's look with all these outfits.

3. THE MINIMALIST LOOK

Your mother only has simple, high-quality clothes that allow her to create different outfits? She wears sleek jackets, little black dresses, or bags without patterns? So she has a look called minimalist!

Fanatics of the minimalist look love classic watches with little detail.

Discover our selection of watches from the Cityline collection, which are timeless, chic and trendy models.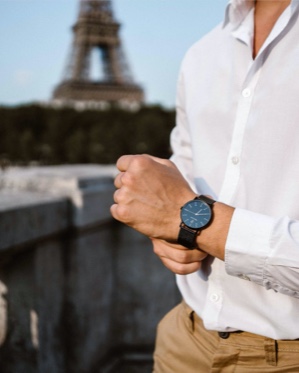 4. THE GLAMOROUS LOOK

The glamorous style is also part of the timeless styles that have stood the test of time while adapting to trends.

Your mother likes to wear pretty dresses that enhance her, beautiful high heels and a beautiful red lipstick?

Then this selection is made for her! Find her happiness in our La Petite Cristal collection with their sparkling and refined dials adorned with Swarovski® crystals.
5. THE CLASSIC LOOK
The classic style is the most widespread because, as its name suggests, it is chic, timeless and elegant.

Does your mother wear blazers, jeans, pencil skirts or shirts? Check out our classic selection to find the perfect gift for her!
Discover our models from the Liberty collection with its sleek dials and three-ringed bracelets.
The secret to keeping your mom happy on Mother's Day?

Offer her the Pierre Lannier watch that will enhance her personality and look!